On The Horizon Weekly - Constructing Ecosystems
User-Centric Innovation | Platforms vs. Ecosystems | Platforms vs Networks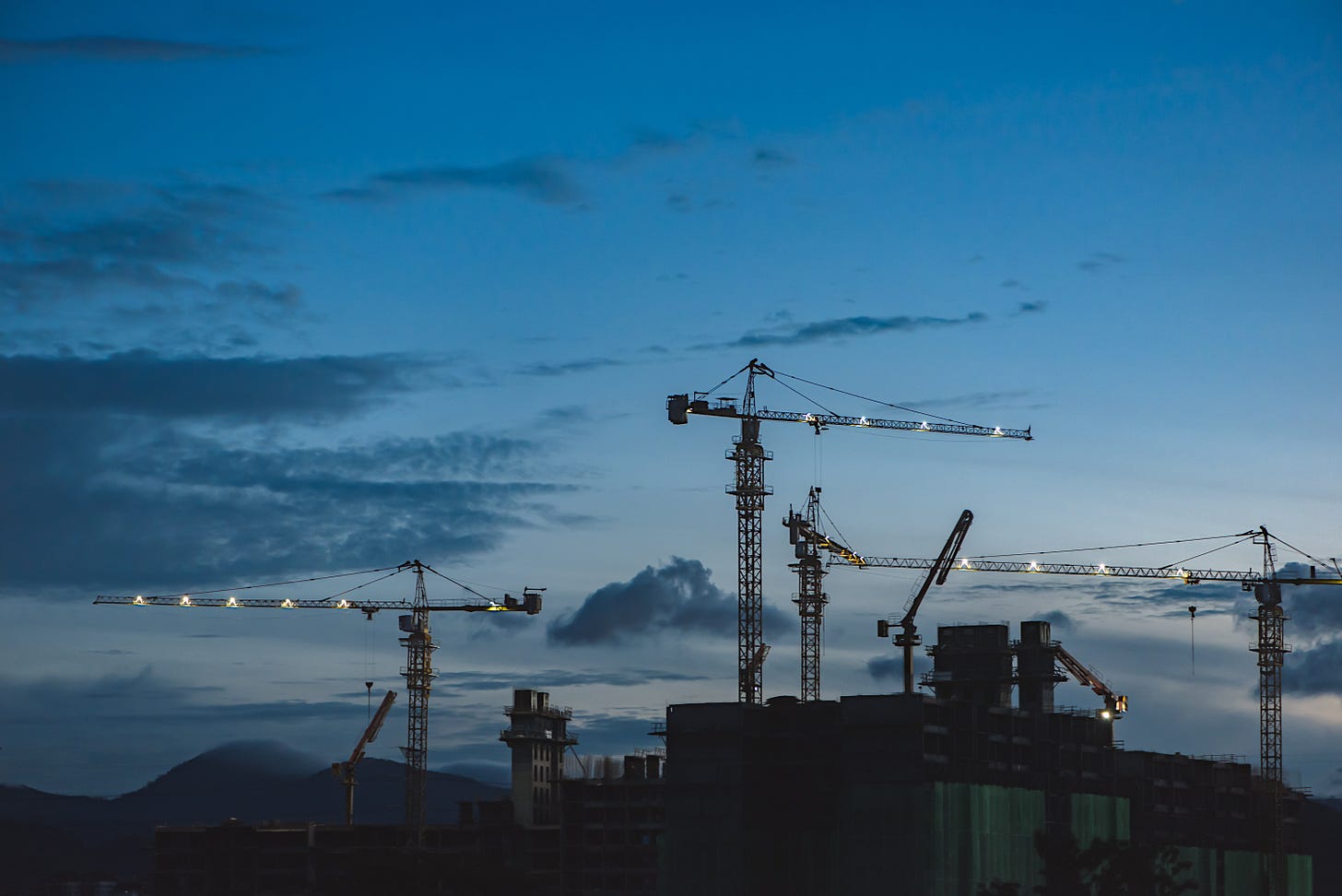 New York NY 2019-07-02 – So many terms. What's the difference between a platform, an ecosystem, a network? One of the roles of On The Horizon is to help navigate the terminology of what we're covering here. This week we sail around the lot, with an eye to how to build the things, whatever the analyst calls them.
::
If you're getting this you probably signed up at the On The Horizon Medium publication, On The Horizon, or workfutures.org. If someone forwarded this to you, sign up here. And feel free to pass this along.
---
The Latest from On The Horizon
User-Centric Innovation and the Shape of Things to Come. Stowe compares the analysis done in an article on Amazon for The Register by Dan Woods and Hamel and Zanini's characterization of global white goods giant Haier's micro-enterprise approach. He focuses on how each uses a user-centric design process, though for slightly different objectives.
Stowe uses the term user-centric innovation as developed by Eric von Hippel in Democratizing Innovation and elsewhere.
The insight that von Hippel is offering is that innovation is accelerated by users taking a lead role in designing and creating the products and services they require, rather than trying to capture their needs and pass that along to some other company or organizational unit. When expanded to the logical end point, a company – or ecosystem of companies – based on user-centric innovation will decrease time and effort in the production of goods and services, and the goods and services will be 'closer' to the needs of all users involved in the network of innovation.
Amazon Web Services employs user-centric innovation in the groups that own each service. Team structure includes some of the following features: codified and incentivized team goals including spelling out "value to the customer," wide autonomy, small size, constant re-factoring and spinning out, and a reliance on other teams for key components of technology or services.
Stowe concludes:
User-centric innovation can lead to significantly faster development and rollout of new products and services. In the case of Haier, micro-enterprises bring users into the design and development of new products and services in an integral way, and therefore the result is a much greater degree of product fit. In the case of Amazon, internal teams pushing to innovate act as users themselves, and the ecosystem of internal teams has been formed around those dynamics.

Convergent evolution is at work, so we should not be surprised that the shape of organizations that reform themselves to operate on user-centric innovation principles look very similar. It would be surprising if they didn't.
::
Is it the Platform or Is it the Ecosystem? Haydn Shaughnessy scans A Study of More Than 250 Platforms Reveals Why Most Fail wherein a trio of professors from Harvard, the University of Surrey, and MIT summarize their new book on the business of platforms. Their take: mis-pricing, mistrust, mistiming, and premature dismissal of competitors.
Haydn says we all spend too much time on the platform itself, at the expense of developing a richer mapping of various types of ecosystem.
In place of their attempts to understand this new enterprise form we've been somewhat sidetracked by the idea that platforms are all about two-sided markets (Airbnb and Uber) and network effects.

Actually platforms and ecosystems are about so much more. They are about information and content, community, massive unintended but repeated consequences, changing work patterns, and the significance of transactions engines and good software.
Ecosystems are more than two-sided markets; they're a whole economy:
Airbnb is not a two-sided market. It is an extensive collection of new businesses: conferences and conference organisers, letting management services, cleaning companies, hosts, access managers, and so on. It is an economy.
To drive the point home, Haydn fleshes out platform mistakes:
For me we are oversold on platforms, which is a set of commodities (nonetheless many aspirants don't know how to use them). We are under-invested in understanding the ecosystem, which requires unique skills that are ill documented. But first what goes wrong in platforms?

Companies continuing to exploit rent rather than exploring ecosystems (Microsoft's continuing investment in Windows rather than Explorer)

Lack of software engineering skills and sequencing to develop new products and services around the platform, at pace

Western "core competency" philosophy – platforms and ecosystems thrive on adjacencies

Therefore poor executive vision that cramps investment

No or low investment in content and advocacy to create belief in the new business opportunity because content and advocacy aren't tangible assets

Too much dependency on the API

Lack of cooperation from the CFO who cannot cope with changing business models or micropayments

This is pretty much what goes wrong in transformations, too. So what we are lacking is an understanding of how ecosystems function.
::
The Shape of the Network in Platform Competition Stowe examines Why Some Platforms Thrive and Others Don't, where researchers Feng Zhu and Marco Iansiti extract general lessons from the specific challenges that food delivery and travel booking giant Meituan caused for ride-hailing leader Didi.
The researchers explore key characteristics of the networks that comprise platform ecosystems: Network Effects, Network Clustering, Disintermediation, Multi-Homing, and Network Bridging.
They argue that network properties and platforms that bridge networks can beat network scale alone:
The researchers conclude that it will be difficult for either Uber or Didi to dominate the ride-hailing market in China (and for Uber or Lyft in the US). With locally clustered networks they are effectively waging a separate war in each city, and multi-homing seems intractable. As the authors point out, the eventual emergence of self-driving taxis may completely destroy the ephemeral success they have enjoyed.
::
Amazon Logistics and Trucking: Virtuous Cycles and the Flywheel Effect Stowe is impressed by Amazon's prowess in delivery logistics.
Amazon's focus on speed of delivery has led to it being faster than competitors, which is attracting more companies to use Amazon's logistics service. This is the 'virtuous cycle' of innovation, once again, the 'flywheel' underlying ecological growth.
As Amazon improves its delivery time — at first by its aggressive push for one-day delivery to Amazon ecommerce customers — it drives higher demand because it can offer faster delivery at lower costs than its competitors. This in turn attracts more customers, which means even more freight in Amazon's logistics system, which… and so on.

There are likely deeper ecosystem effects at work here too. As customers become more engaged with Amazon's logistics, they are likely to adopt Amazon's logistics platform, which opens up higher levels of data sharing, the benefits of which grow exponentially as a function of the number of customers. This means Amazon's algorithms for logistics planning can improve non-linearly, too, which in turn leads to even faster shipping.
For more than altruistic reasons – e.g., paying employees, benefits, cost-shifting – Amazon is spinning out chunks of its delivery infrastructure:
Amazon in this case is trying to take advantage of ecosystem economics: by creating an 'army' of delivery partners, each with some seed money and the promise of steady work, Amazon sidesteps the costs of buying, insuring, and maintaining the fleet of delivery trucks it needs if it wants to replace UPS and the USPS in delivering its own goods. It helps the delivery partners get low-cost leases and loans, certainly, but the liabilities never hit Amazon's books. So it can scale at very low cost, the $10,000 seed money for each notwithstanding.
---
Elsewhere
Technology platform-based ecosystems require serious developer support from the platform owner. As Apple integrates its mobile and desktop operating systems more tightly, its "Project Catalyst" aims to make porting iPad apps to iOS easier. Ars Technica checks on its progress and talks to developers in the program: Catalyst deep dive: The future of Mac software according to Apple and devs.
::
Inside Apple's team that greenlights iPhone apps for the App Store from CNBC is much lighter on detail, but it sketches out how developers get approved for App Store inclusion. The process is dependent on humans, rather than algorithms, and Apple's 300+ reviewers often have a hard time meeting their goal of approving half of all submissions within 24 to 48 hours.
::
Since we talked about Amazon's deliver ecosystem, here's another element of it. This Reuters story describes drugstore pickup: Amazon launches new in-store pickup option with Rite Aid as first partner.
::
Samsung is globalizing the app store for its voice-activated virtual assistant, according to Samsung launches Bixby Marketplace in the U.S. and South Korea from Venture Beat.
---
Sign up for the On The Horizon weekly newsletter to remain informed on new writing, events, and other activities.
We are actively seeking contributors and subjects to investigate, so please contact us via our contributors page.